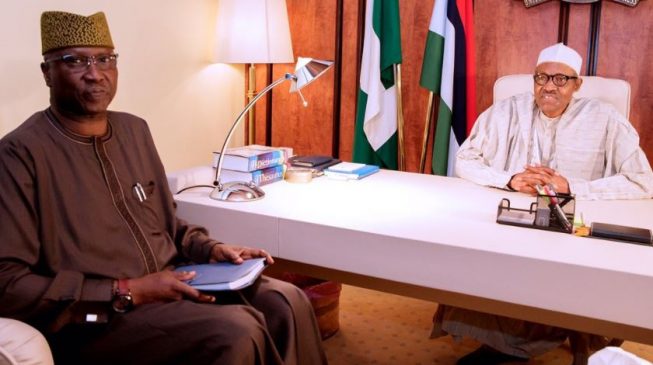 Boss Mustapha, secretary to the government of the federation, has affirmed that President Muhammadu Buhari will seek re-election in 2019, adding that there is no existing alternative to him.
Speaking at the Unity Fountain in Abuja, while addressing a rally organised by the Democratic Youth Congress, led by its national chairman, Kassim Mohammed, Mustapha said there is no alternative to Buhari.
He said other presidential aspirants have nothing to offer.
The group had urged Buhari to declare his intention to contest in the 2019 elections.
Mustapha said, "We do not have an alternative to President Muhammadu Buhari for now. I will present your entire message to him. I congratulate you for your support for President Muhammadu Buhari to run in 2019."
The SGF, who was represented by Gideon Sammani, senior special assistant to the president on political matters, said Buhari was widely known for his stance against corruption and indiscipline.
Mustapha argued that it was the corrupt individuals who were against the president because they were apprehensive they may be brought to book.
He added, "We all know that Buhari is transparent, honest. He has come with the change philosophy. He has lived for this, to bring change to this nation. Since his military days, he stood to fight corruption, indiscipline.
"Many people fear him because he does not compromise corruption and corrupt people are afraid that they will be brought to book. And those who have already looted the treasury of this nation are followed by the security agencies. By the grace of God Buhari will not relent in this fight.
"He will continue; the politics of this nation is no more the politics of money or do-or-die politics. Anybody who wants to lead this nation must make sacrifices. Buhari has already transformed and changed the image of leadership and that of our leaders this country, both locally and internationally."